London Collections: Men has become one of the most anticipated events in the fashion calendar. Established names like Tom Ford, Alexander McQueen, and Saville Row have injected the season with immaculate tailoring, elegance, and timelessness. New envelope-pushing designers like Christopher Shannon, J.W Anderson, and Lee Roach are unapologetically bringing their own playful edge to the shows. Check out our thoughts below:
Topshop:
The psychedelic backdrop of the Topman show was a hint that this was going to be one fun collection. Although it started off a little serious, with black, navy, and classic silhouettes, it got more and more playful with each look. There were a variety of coats for every occasion: Long, short, bomber, denim, fuzzy. There was a youthful yet sophisticated vibe in Gordon Richardson's latest collection for Topman, as if the male he had in mind was caught somewhere between boyhood and manhood. There were surprising elements like tartan, sticker-like star prints, and a 70's feel. Rebellion was literally spelled out on the clothes and in the whole collection.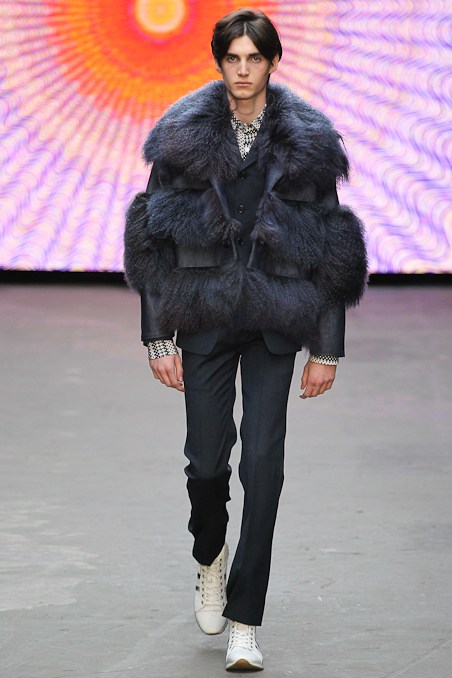 The International Woolmark Prize Menswear Final: 
The winners of the prestigious International Woolmark Prize are Public School and M. Patos, who were picked by judges like Sir Paul Smith, Editor in Chief of GQ UK, Dylan Jones, Editor at Large of Style.com Tim Blanks, and Nick Wooster. "The Woolmark Company's prestigious award enables emerging designers like PUBLIC SCHOOL and M.Patmos a platform to push the boundaries of their creativity with Merino wool through experimentation and innovation." Menswear winners Dao-Yi Chow and Maxwell Osborne of PUBLIC SCHOOL, upon receiving the award, said: "We're so incredibly thrilled and honoured to be selected as the US representative in the first Woolmark Prize for menswear. Working with wool and all of its natural benefits has been instrumental in developing the trans-seasonality and versatility of our own collection and it's going to really help jumpstart our knitwear business".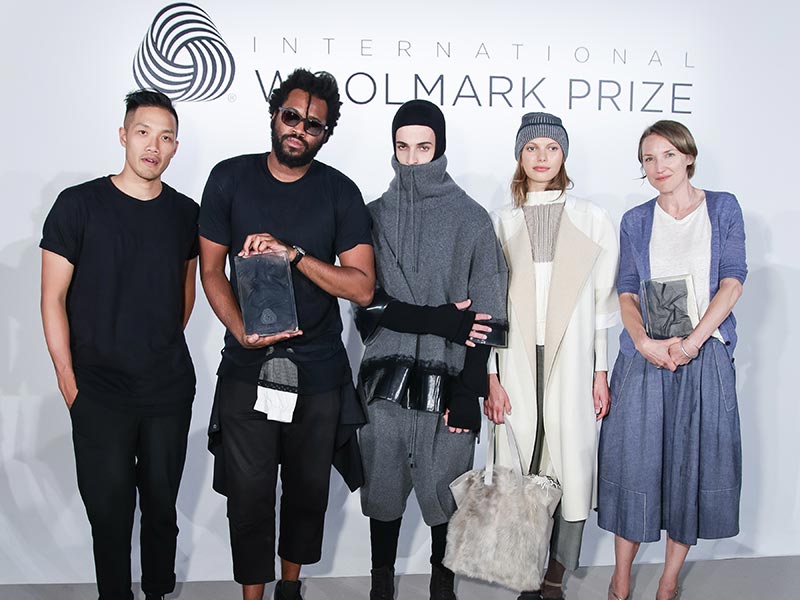 MAN: 
Topshop and Fashion East, directed by Lulu Kennedy, join forces again for the support scheme, MAN. This season's AW15 collection is designed by Liam Hodges, Nicomede Talavera, and Rory Parnell Mooney who joined them fresh out of his menswear MA in Central Saint Martins.  The three designers fused their vision together and took menswear to new heights, volumes, and lengths. First up is Rory Parnell Mooney who presented voluptuous separates and striking headpieces in dark tones. Liam Hodges' personality came through in the collection as he sent down bursts of orange, collage-printed garments, and protest-like posters over outfits down the runway. Nicomede Talavera created uniform-like looks in stripes that walked the line between practical and edgy. Think layers and layers of mix & match pieces that can be worn in different ways. We suspect the Sucker sweatshirts and camel coat will be a big hit.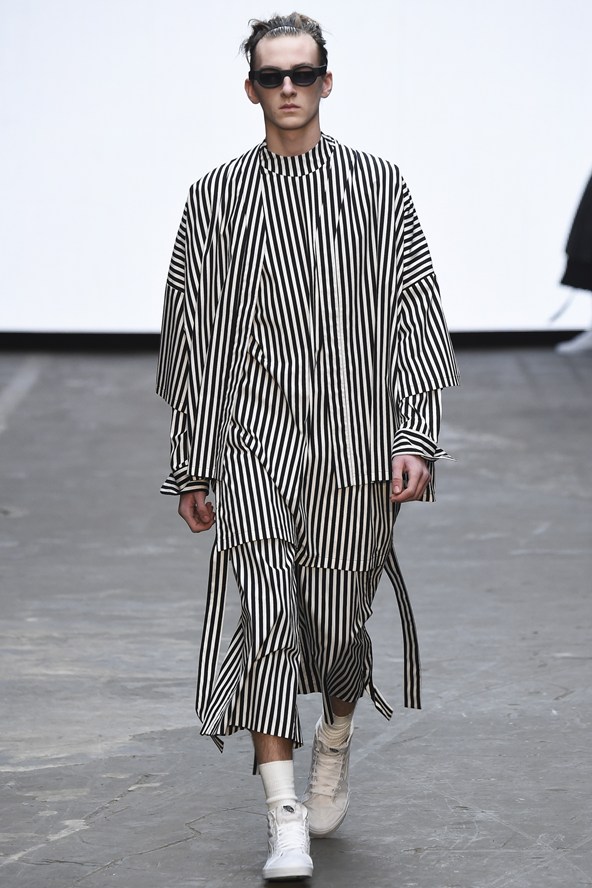 Aquascutum: 
The return of Aquascutum has caused a stir of excitement during LCM. Thomas Harvey, unconcerned with trends, focused on technique, fabric, and classic tradition. This collection paid a nod to Edmund Hillary's Everest expedition, one that the brand has developed fabrics for, and was full of subtle references. This collection was extremely wearable and Harvey, demonstrating what he learned from Reiss, did not fail to produce perfectly tailored pieces. The palette? Navy, green, and steel.
Christopher Shannon: 
Central Saint Martins graduate Christopher Shannon quickly became one of the key menswear designers of his generation for his strong contemporary, colour-blocked urban influenced pieces. This collection builds up on Shannon's previous one as he continues to play around with the idea of collages. However, for this season, there is a sense of the throw-away culture of modern-day consumerism and discarded pieces. The designer translated this notion with fun, signature-Shannon sweaters, and sent models down the runway with matching bags covering their faces. One illustration of a shopping bag even says "Thanks 4 Nothing". Shannon has us convinced; for him, there's no where to go but forward. There's certainly nothing to throw away from this collection.
 Kit Neale: 
This collection's purpose was to make one feel like a kid in a circus. Think bright reds, oranges, blues and lots of hats. For the silhouettes, models wore structured bombers, patchwork jeans, and quirky uniforms. "It's referencing the lifestyle", the designer said, "you can wander around the circus campsite and look inside some of the caravans and see the patterns and textures that exist in that world, and we wanted to pick up on all of that … Ultimately there needed to be a commercial element but we still wanted it to evoke the essence of the circus".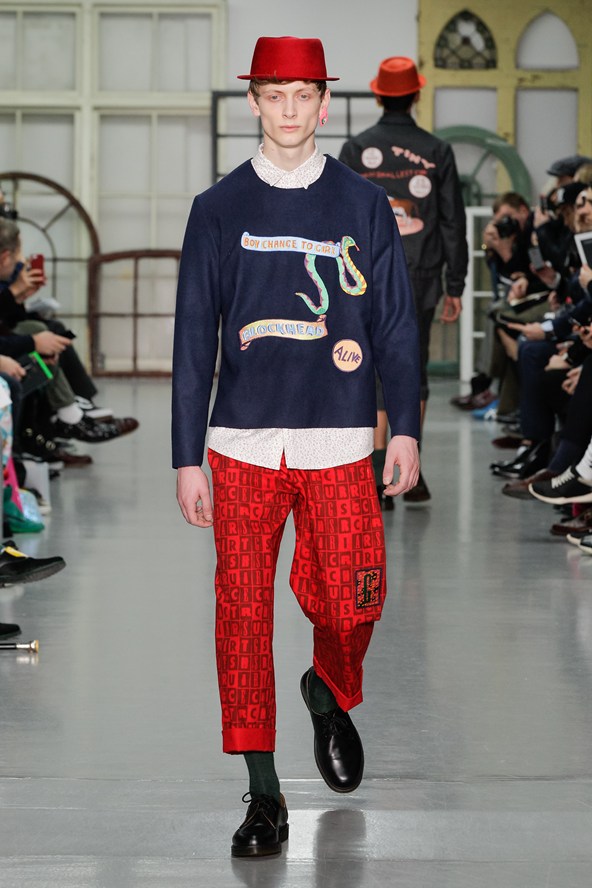 Christopher Kane: 
If Christopher Kane has proven anything over the years, it's that he can take any concept, and make it 100% desirable. The way he reinterpreted geometric shapes for this collection is brilliant. It's restrained but the vibrant Kane DNA is still there, especially in the pops of color. We also love how he interpreted the "seatbelt" bag buckle for menswear.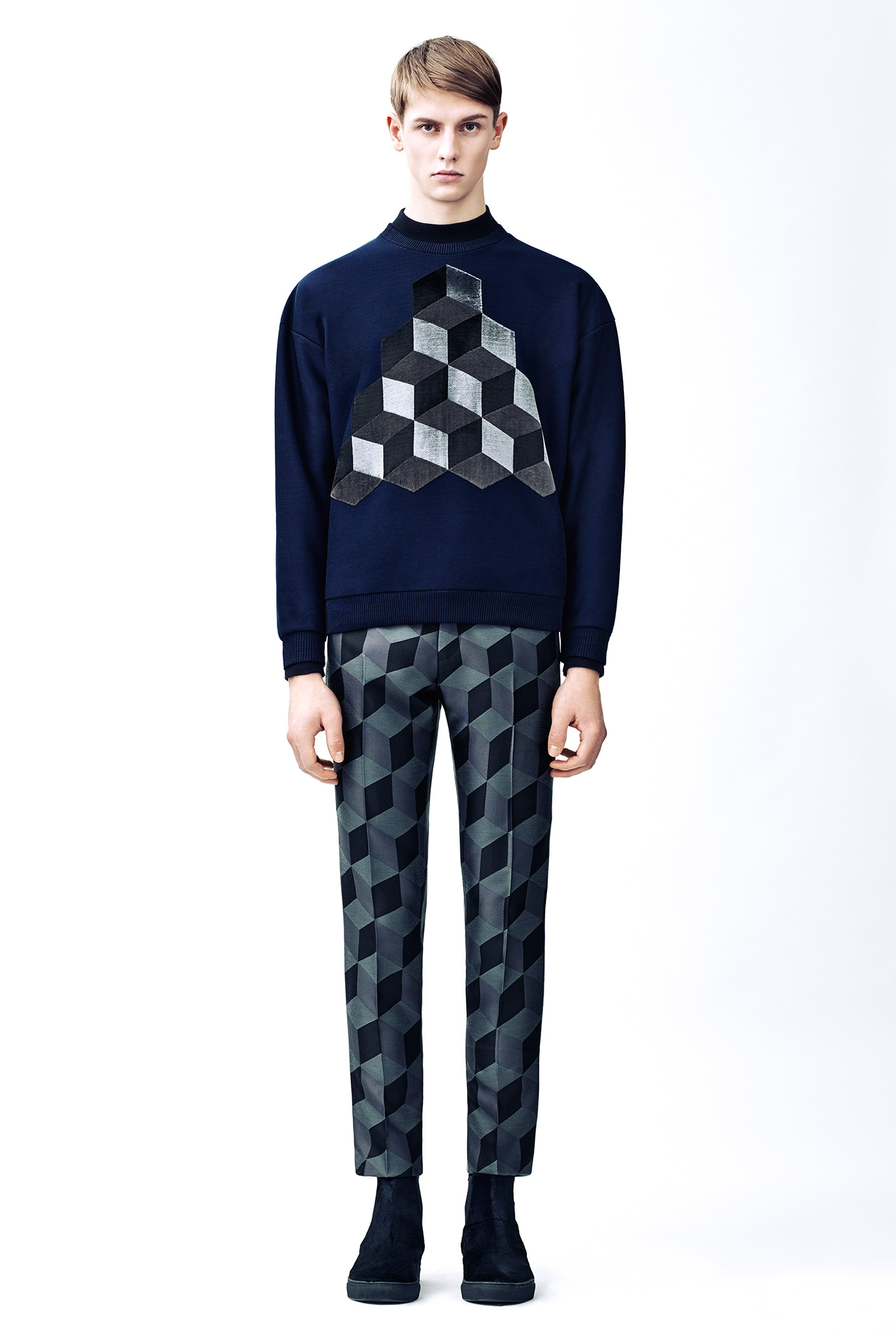 Coach:
Stuart Vevers is redefining Coach, making it more appealing for the younger generation, but not in any way sacrificing the label's old school luxe vibe. For his first menswear collection debut, Vevers, looked back at the Americana movies he watched as a teenager. In fact, it was a poster of My Own Private Idaho that Vevers had in his bedroom that provided the base for this collection. There was a contrast in this collection; between strong and soft, thick and thin, bulky and delicate. The materials used were divine. Think leather, shearling, and sheepskin. Vevers threw in t-shirts with a "thrift-shift feel". Vevers adds, "a lot of the materials we used are very sturdy," said Vevers: "I like pieces that feel like there is a lot of life to them".